Hole pre-cutting device 250
- for tiles up to 250 mm
- made of die-cast aluminium
- for wall and floor tiles made of earthenware
- not suitable for stoneware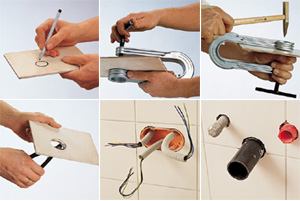 Working with the Fliesenlochboy is so easy:
1. Mark the position of the hole on the tile.
2. Insert the tile so that the glazed surface is visible through the
   opening. Then tighten with the spindle.
3. Knock out the hole with the tile hammer.
4. If you need other shapes or larger holes, you can work out any
   other diameter with the help of tile punch pliers.
Whether sockets or junction boxes, outlets or drain tubes, all these can be done rapidly, neatly and professionally wi